When Professor Natalie Meisner, PhD, accepted her newest designation as Calgary's 2020-2022 Poet Laureate, the first thing she did was read a poem dedicated to nurses. In the midst of the COVID-19 pandemic, she finished up a piece as an ode to those who look after us when we need it the most.
"The role of the caregiver, or the people who care, always has a real special place in my heart. And I don't think we thank them enough," she says.
For the past two years, Meisner has been teaching a unit of creative non-fiction with MRU's graduating cohort of nurses to help them tap into their inner poets. It can be cathartic for those with such a difficult career, and the results have been "impressive," and even publishable, Meisner says. In the process of writing, Meisner witnesses her students gain self-knowledge, find power and build inner strength.
And that is the power of poetry and why Meisner is perfect for this newest position.
"Poetry isn't a true vaccine … it's not food, it's not shelter or water or safety, but it can sometimes just give you that little spark that you need," Meisner says.
Nominated by a former student, a gesture she calls "gorgeous," Meisner follows two Mount Royal colleagues who have also held the Poet Laureate role – derek beaulieu (2014-2016) and Micheline Maylor (2016-2018). The position was formally announced on April 27 at Calgary City Hall in combination with the Mayor's Poetry City Challenge.
"The Poet Laureate program is a wonderful way to reflect our city and its citizens through the power of words and language," Patti Pon, president and CEO of Calgary Arts Development said in a release. "It is a pleasure to welcome Natalie Meisner to the position for the next two years. Natalie is an award-winning poet who has also had experience in the theatre and education worlds. We know she will be a passionate advocate for the power of the written word."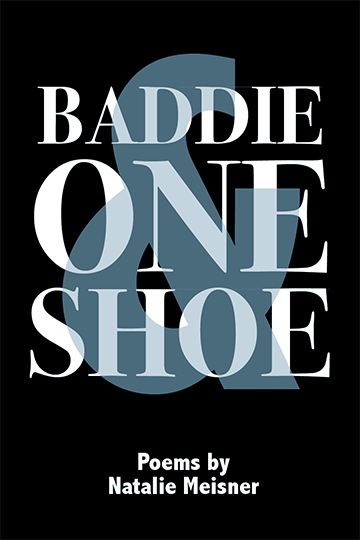 Baddie One Shoe
Poems by Natalie Meisner
Meisner, who teaches literature and creative writing in the Department of English, Languages and Cultures, sees much unrecognized power in language and its uses.
"I would like to leverage (the laureate) position to bring people together and to offer hope," she says. "Offer hope and also look at the way that the right words in the right order can really change lives and can really change the universe."
A poet, playwright, author, scholar and teacher, among Meisner's list of publications is a recent book of poems (Baddie One Shoe), a children's book (My Mommy, My Mama, My Brother & Me), a semi-autobiographical novel (Double Pregnant: Two Lesbians Make a Family), and three plays. Her works are open, honest, funny, and approachable, with threads of fairness, kindness and shared values.
Also MRU's director of Changemaking, Meisner sees an overlap between that role and the one of Poet Laureate. She has been involving her students in a writing project in conjunction with Calgary Immigrant Services, working with those new to Canada on telling their narratives. This is the 2019/2020 version of the Life Writing project, which was formerly a partnership with United Active Living's Garrison Green residence.
"That is definitely something I can build on, as well as what the other poet laureates have done so far in terms of linking up public art with poetry," Meisner says. "I don't love it that sometimes people think of poetry as this musty thing that sits behind closed doors.
"I feel like poetry should be available to everybody. We need to move it even more into the public domain until it is like Play-Doh in the hands of children or self-expression for seniors … these are kinds of poetry, too, just as much as the kind that we study in the classroom. Having one foot in the Academy and one foot in the community is really important."
This latest recognition follows what has been a very good year for Meisner, with several works coming together for publication. But despite all of the good things, it's also been tough. A Nova Scotian native from a very small community, Meisner was deeply troubled by the horrifying recent events in her home province. Friends have been affected by the floods in Fort Mac. A mother of two boys, she, too, is home-schooling, working and trying to keep positive during a pandemic. She recognizes there is additional responsibility around being a public representative during uncertain times.
"So we simultaneously grieve someone we have lost … while also finding joy in watching our child learn something new. It seems paradoxical, but poetry lets us feel comfortable feeling both at the same time."
For the near future, Meisner is musing about how to begin to engage people at a time when everyone is supposed to be staying apart, including the potential for a virtual Pop-Up Poetry event soon.
"Dr. Natalie Meisner is a much-deserving recipient of the title of Poet Laureate of Calgary. She will be a stellar artistic ambassador for the city," says Jennifer Pettit, PhD and dean of the Faculty of Arts.
"Natalie is an incredibly skilled playwright and poet who has an incredible appreciation of words and the powerful impact they can have on individuals and society as a whole. Given recent world events, we need poetry more than ever to remind us who we are and how we are connected, not just at Mount Royal University and Calgary, but across the country and beyond. Dr. Meisner will no doubt surprise, entertain and challenge us with her poetry."
First Nurse
By Natalie Meisner
You will never forget her,
your first nurse
nor your first librarian
one cupping the pieces of your falling
body gently sticking them
back together again, the other your mind.
Have you said thanks,
to whomever it was hot glued you
together with a mouthful of kindness
food or decency
who gave you kindly bloodwork,
results or a swift kick in the ass
whatever it was you needed most?
The one who saw
all the oddity a body or mind can offer
& loved you anyway
Your first nurse,
do you remember,
her touch
of life & death blended
in a frothy prescient cocktail
for she knew you were not long
for this earth
nor was she, herself
nor any of us
Your first nurse knew
all this as she laid hands upon you
& so did your first librarian
as she pushed the book
across the desk
Love them. Love them, I say!
They who wade in and out of death
every blessed day on our behalf
& go eyeball to eyeball
with mortality
taking death's measure the way most of us
squeeze a loaf of bread
at the store
back in the mists of time
when we still squeezed things
in stores
So if she comes to you,
or he, (men of course can can nurse too
& more should)
with a bit of death clinging
to their shoulder, fingertips or mind
breath singed with fire
be kind
when the juices fly
just love them
as the tang of alcohol
trying to erase where they have been
stings your eyes
If a shred
of fresh flesh or knowledge
clings to the elbow
of a sweater worn thin
like patience
rolled sleeves,
greased elbows,
suds scrub rinse
repeat
Understand that spooning out
sugar all day
to help us get all this
down down
isn't easy
Not everyone has banked
Enough of money of bread
Listen to Meisner read "First Nurse" at 12:50 in this recording.
Publications by Natalie Meisner
Legislating Love: The Everett Klippert Story
My Mommy, My Mama, My Brother & Me
Double Pregnant: Two Lesbians Make a Family
May 4, 2020 — Michelle Bodnar
Media request contact information.
Have a story idea? Please fill out this form.
Know more:
https://www.mtroyal.ca/AboutMountRoyal/MediaRoom/Stories/natalie-meisner-named-calgarys-new-poet-laureate.htm