Boom Baby at Alberta Theatre Projects
By Lauren Marshall
As part of Playwrights Projects 2020, Boom Baby by Natalie Meisner, was the second of three plays to be workshopped and read in front of an audience online.
This play was worked on previously by DMV Theatre and dramaturged by Pamela Halstead with support from Playwrights Atlantic Resource Centre. It had staged readings at Eastern Front Theatre (NS), Artspring (BC), Handsome Alice Theatre (AB) and, most recently, Alberta Theatre Projects. Eastern Front Theatre was ready to give the play its full-on theatrical debut in April 2020 before the shut-down. Future performances are currently unknown due to COVID-19.
The play is set in various camps and the surroundings of an enormous mining operation in the Canadian Boreal Forest. It is the story of two groups: equipment workers from the Maritimes, and industry management from Alberta. A young woman, Iona, goes to a camp near Fort McMurray, and finds herself pregnant after a casual encounter with a friend. The plot then centres around the fate of the baby. Iona doesn't feel she is in a position to raise a child, and considers having an abortion. She then meets a couple, who work in management in the patch, and who are unable to have children themselves. They suggest she be a surrogate for them, which is when the play first raises the question of what can or cannot be bought and sold.
Natalie Meisner is a writer from Lockeport, Nova Scotia. She is Calgary's current Poet Laureate, and a professor of English at Mount Royal University. Her plays have been produced across the country and won numerous awards. The image of this story came from the Athabasca River, which acts as the watershed for our continent, almost as if it was a big artery. Natalie and her wife were trying to have a child at the time she first started writing the script. She was very conscious of what was going into her body, such as a casual glass of wine. It was this personal awareness of a body being an environment for a child, and then connecting that to the water table as an environment for humans. It came together in this really concrete way. Then she started doing interviews with cousins, friends, and students, building her knowledge and working on it. From inception to realization, it has been about 10 years.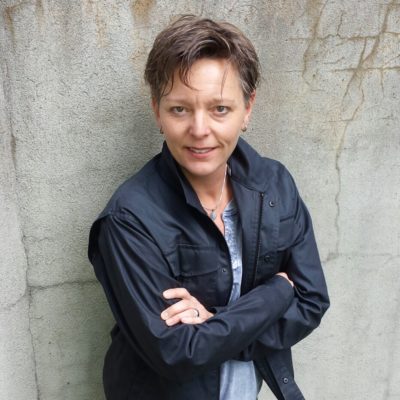 "I grew up in small town Nova Scotia, a very small place. There's some fishing and some mining in Cape Breton, but a lot of the young people there speak about the need to go somewhere else. They don't feel they have a future in the place they are from – so they usually need to go West for work," Natalie explains. "It's a neat condition to be a Maritimer who has come to understand Alberta, because the two regions are really linked."
She hopes this play will help the East and West understand each other more. Pamela Halstead (dramaturg, director, actor, teacher and artistic director of Playwrights Atlantic Resource Centre) has lived in the Maritimes and Alberta as well. This created a strong dramaturg/playwright relationship, helping Natalie to portray both worlds.
Boom Baby has undergone three staged readings so far over the course of its evolution, and this has allowed Natalie to tweak it to the point where she would be happy to have it published. This specific workshopping as part of Playwrights Projects was really beneficial and timely for her. There are so many things that have shifted, both during the shutting down due to COVID-19, and generally in the past 2 years in Alberta. This was an opportunity to hear if her ideas were still as urgent, and if her script was still tuned correctly.
She elaborated, saying, "It was also important to Pamela and I to have fresh new actors on it. Because sometimes if you have the same set of actors and you're developing a show, you aren't sure if their work is based on the stuff you told them, or if it really is on the page." This was great for her, because there was nobody on the team that had read the play previously, but they all jumped in and got it immediately. They only had three short online rehearsals, and still dropped right into the characters."
This show is about what we owe the future, and accepting that easy answers don't always exist. Natalie feels so lucky to be constantly working with young people, in and out of the classroom, who keep saying things need to change. She knows that a lot of folks in her generation, or a little older, aren't hearing those voices every single day, and wishes they were. In this play, she tries to reach them through humour: "Comedy creates this sort of shared community, and people are more capable of change in a comedic space sometimes. It's weird, people can be laughing, and they don't know they are shifting inside; that they are able to take action now that they've had that opportunity."
---
Lauren Marshall is going into the fourth year of her Drama BFA at the University of Calgary, and will be continuing into education after that. She took a year off after highschool to work as a D. MIchael Dobbin Apprentice at ATP, so the company holds a special place in her heart. She is very thankful to have this opportunity for meaningful conversations with artists during these hard times. You can see what she's up to in the Calgary theatre scene on her Instagram @whywhyseetheatre.
Top Image: Playwright Natalie Meisner